Our Apartments:
Home from Home
We've 15 stylish self contained self-catering apartments so why not make Cotswold Aparthotel your home from home from 2 nights, to a week or more.
Each room is for two (apart from the single of course), with at least one person over 18. We have a couple of futons for a child of 7 or under. If you're looking for more family space then perhaps linked rooms might be for you. Please drop us an email. stay@cotswoldaparthotel.co.uk
Wheelchair / adapted Apartment? YES.
Dogs? - 5 of our apartments are dog friendly, but do check before booking as they may already be booked. NO cats please.
Our apartments are all equipped with the same kitchens and style of decoration and feel. Here are some sample pictures for you. The main difference between the grades is the size. Please note that 3 have tub chairs rather than sofas.
Each has a kitchen which includes: a twin ring induction hob, microwave, kettle and toaster. A fridge, with a freezer box, and a dishwasher. Pots, frying pan, crokery and cutlery. An ironing board with an iron, a laptop sized safe.
We leave some tea and coffee for you and a litre of long life semi-skimmed milk to get you started. Salt and pepper grinders too.
All in all comfortable open plan living, so either cook for yourself, order in a takeaway or try some of the many pubs and restaurants in town or in the surrounding villages.
Towels, soaps (we refill so please don't take them away), washing up liquid and dishwasher tablets too. You can restock if you wish from the Pantry in the Main Hall.
There is an iron and a board in each apartment as well as a hairdryer.
To help plan your stay we've set up a website: Take a look on www.hotcotswolds.uk for walks, rides, food and relaxation.
So what do we have…
Superior apartments – Super king or twin with a bit more space
Standard apartments – Super king, twin, king size bed or standard single with everything you need
Studio apartments – The budget option (but there's still everything you need)
Two-bedroom apartments – we can link two apartments to give you an extra bedroom. Please email if you'd like this option.
Please note that this is an adapted building, not purpose built, so the apartments do vary in shape and size, photos on this web site are for guidance. Pictured is Apt 8, a Standard with a king bed.
There is no lift, though we do have 6 ground flooor apartments. Our Studios are 1 on the first floor, one on the second and they are opposite ends of the building.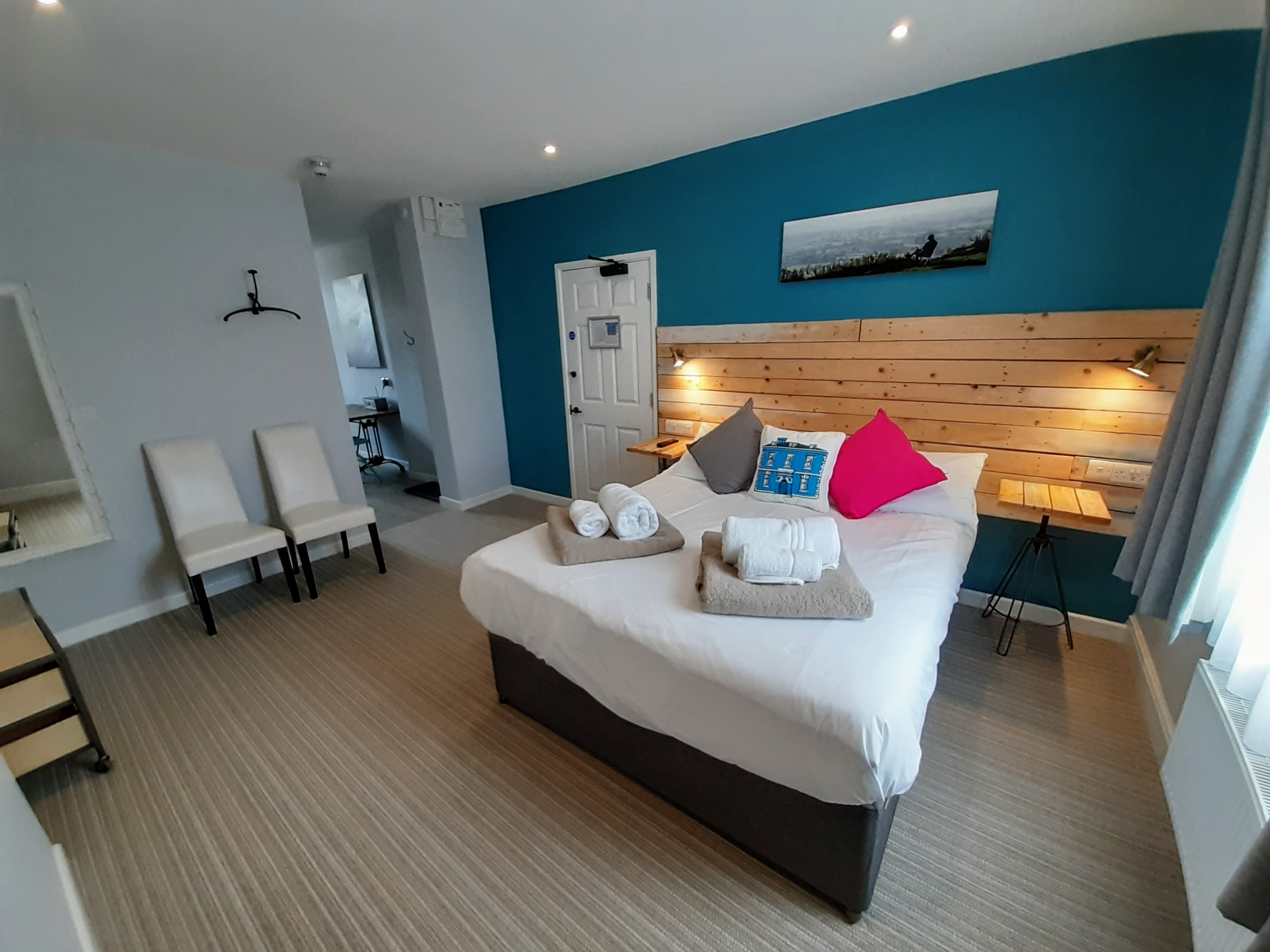 Staying with friends or colleagues? Then let us know and we can ensure one of you has a large enough table to eat "family style". There's seating for 10 in apartment 2.
Parking and wifi? Of course.
Privacy (but CCTV coverage in shared areas)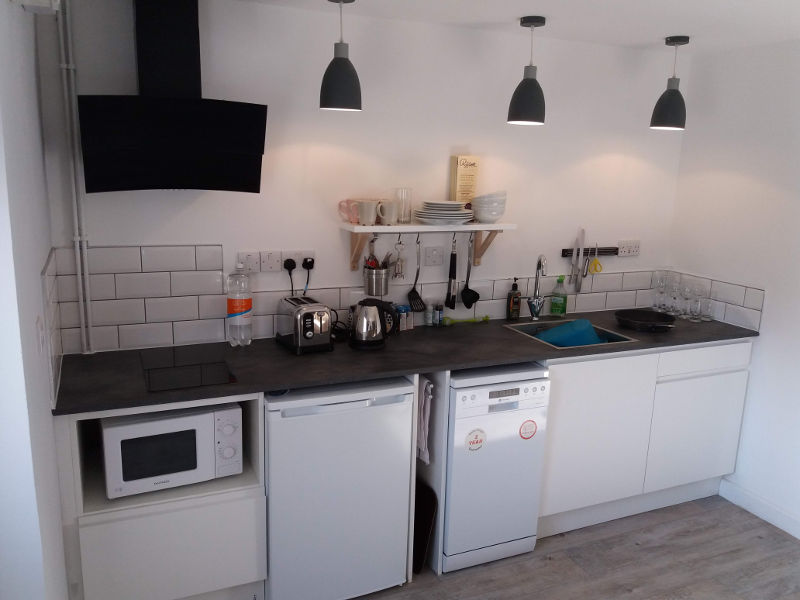 Reviews
Debbie 10/10 July 2023 on
We stayed at no 8. It was spacious and clean. Had a high and comfy bed and snug and comfy sofa. Nice power shower with plenty of hot water. We got drenched on one day and Simon kindly put the heating on for us so our coats could dry. The flat was in a good location with easy walking distance to shops and cafe and canal. It would have been perfect if it had an oven with a grill. We met a few quests coming and going but It was very quiet. It was nice to have a little unit in the hall so you could help yourself to more tea bags or dish washer tablet's. We enjoyed a pleasant stay and we would recommend to our friends and book again if we came back to the area.
Gaia 5/5 July 2023 on
We've just returned from our short stay at Cotswold Aparthotel (CA). This was our first holiday as a couple travelling without family and we definitely made the right choice of accommodation. For somewhere that is self-catered and reception-less, CA still managed to achieve that "Home away from home" feel. The little touches like the pain au chocolats in the kitchen and the board of suggestions on what to do in the Cotswolds were really lovely. The apartment was really spacious and well-kept. We'd have loved to have had more channels on the TV but honestly that's just us being picky at this point! Will definitely be booking again! Rooms 5.0 Location 5.0 Hotel highlights Great value Nearby activities: Our highlight was staking out the river Frome near to the Waitrose (go via the canal for a flatter route) to watch the kingfishers and dippers. Other highlights were Stratford Park, Rudge Hill nature reserve, Painswick, Doverow Wood, Standish Wood, Haresfield Beacon and Randwick. We don't drive so this shows how much there is within reach on foot from CA. WalkabilityThe location was perfect too with nearby bus stops and loads of walks in the area. We would definitely recommend ignoring Google Maps and just getting on the canal via Chestnut Walk as it will virtually take you nearby to anywhere you want to go instead of having to navigate busy roads.
Kelvin 5/5 June 2023 on
Great Stay
Helena 10/10 September 2022 on
brilliant, great location, great apartment Loved that we had milk, juices and breakfast left for us- what a lovely touch. great access with the pin code, really easy
Suman 10/10 August 2022 on
comfortable homely stay :) Felt like home 🏡 :( N/A
Jerry 10/10 June 2022 on
I would recommend Five Valleys. I booked 3 apartments for family members as we were attending a family wedding close by. All apartments were perfect for what we needed. A base to come and go when we wanted to and close to all the places of interest.
William 9/10 May 2022 on
Very pleasant stay in a well appointed apartment in a good location. Will certainly stay again. The apartment was spacious and pretty perfect in every sense. Excellent joining instructions from the host who was very helpful as we had a minor WI-FI issue which was very swiftly dealt with.
Steph 5 Stars June 2021 on
Fabulous space, much bigger than I imagined! Really amazing value for money. All the amenities you could want, with a separate bed and kitchen area. Very clean, quiet and felt safe throughout our two night stay. Well placed to explore all the gorgeous parts of the Cotswolds! Steph book one of the dog friendly Superior Apartments for a 2 night break. Thank you for such a lovely review :)
Carla 5 Stars April 2021 on
The flat was really great! Good layout, clean with everything you might need for a short stay. We stayed with our toddler and there was everything we needed plus it wasn't full of dangers! The walk into town is lovely so would definitely recommend staying here to explore Stroud. Communication was really quick and you use a pin to get in so no forgetting your keys or locking something in when you leave. We would stay again if we came back to Stroud.
Natalie 10/10 April 2021 on
Great stay, will stay again. Easy check in, clean, modern and comfortable. Good facilities to self cater as we helped family move house.
Kush 5 Stars October 2020 on
Excellent stay at 5VA, apartment was larger than expected and was well equipped with all the amenities you could need. Simon was easily reachable and quick to assist with any queries. Great location with handy bike storage.
Gwen, GB 10/10 September 2020 on
Spotless clean, well equipped, easy to check in. Host answered any queries straight away.
Sue
★★★★★

January 2019 on

We really loved our stay here! A five star choice! Simon gave us a warm welcome and good local advice. The apartment was quiet, clean and comfortable - well equipped and very spacious for two of us. Good value indeed.
Christopher, GB 10/10 September 2018 on
Spur of the moment decision to travel half way between Leicester and Torquay and booked it. On arrival the outside looked newly painted and was in a great location. It is keyless entry and on entering my apartment found it to be spacious and well equipped. The kitchen/diner/lounge had everything you needed and more. The bedroom was spacious along with the bathroom. I had paid a hell of a lot more money for 4 star hotels that were not a patch on this place. The service from Simon was second to none and would definitely recommend it as a must if you are in the area. Walk into the centre of Stroud is about 15mins. Thank you.
Chris
★★★★★

September 2018 on

What an amazing place, lovely space with well equipped kitchen stocked with some basics, and lovely bathroom, and bedroom, really easy process for arriving and getting in (email with PIN for door lock), good recycling bins including food waste caddy, and situated a few minutes from town. Only opened recently and hope it is a real success as I will definitely want to stay here again.
Chris Edwards
★★★★★

September 2018 on

This is must stay when you visit Stroud as it's location is just outside the centre and so a short walk to shops/restaurants. Very spacious and well equipped self catering apartments newly decorated.
Mr Happy Badger
★★★★★

August 2018 on

Love this place. Had a very comfortable night and even decided to stay another night. Manager is very friendly and helpful. Room and kitchen spotlessly clean with everything you could need. Would recommend.
Roshni, GB 10/10 July 2018 on
Little bit of safe comfy luxury in Stroud.
We support
A big thank you to: